Written by Dale Cudmore on 01.20.2020

How Do You Build Backlinks for Review Websites (Lessons from Wirecutter) ?
What's the toughest type of content to build links to?
My guess would be review sites.
Review sites can be great, because they focus on topics with high commercial intent (meaning people want to buy things) and easily produce revenue.
However, no one wants to links to reviews. Or at least that's how it seems most of the time.
If a site writes about related topics that could potentially link to you, they'll almost have their own reviews to link to. Why would they want to send away their most valuable readers?
The traditional advice is to make content on other topics, get links to that content, and then internally link to your review pages.
It's good advice, but sometimes you just want links to your review pages.
It's not impossible, and The Wirecutter is a great example of a successful review site.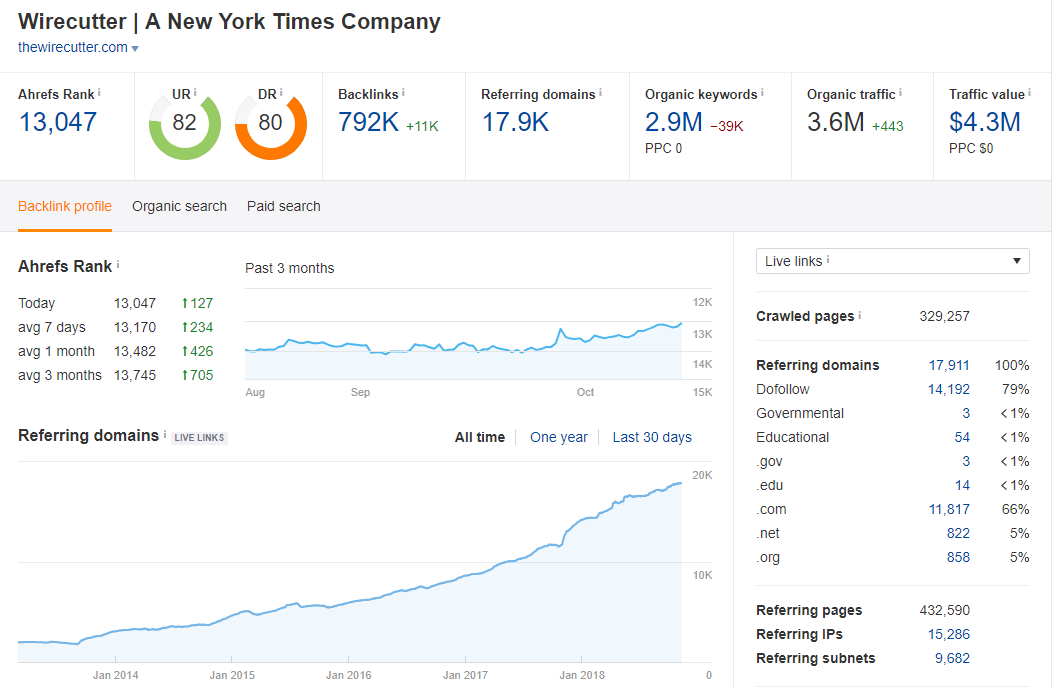 They have tens of thousands of links, and rank for all sorts of highly commercial terms.
In this post, we're going to look at what type of links The Wirecutter gets on their reviews.
A Shortcut: It Takes Links to Get Links
When I said that nobody links to review pages, that isn't technically true.
Not everyone is savvy to the value of these pages, and some don't care because they don't have much traffic in the first place.
So when they're writing an article and want to link to something like "good toaster options," they'll search Google for something like "best toaster" and link to the top result.
This means that once you rank in the top few spots for a review term, you'll get natural links. These help keep you ranking highly and will help the rest of your site rank highly.
But this is a chicken and egg problem. It's tough to rank highly for a competitive term without links.
The Wirecutter was able to get around this by starting with a domain that had high authority. The Wirecutter is owned by the New York Times, so budget wasn't an obstacle for them.
If possible, never start out on a brand new domain. Register a domain that already has hundreds or thousands of links to it, and was on a somewhat related topic. Alternatively, buy an existing site if you can afford to.
This will make it easier to rank for the "easy" review terms, which will naturally bring in links, making your life much easier.
However, if this is not an option, you can still build links.
I put in one of their top posts into Ahrefs, and started digging into its links. Let's look at the 4 main types of links that The Wirecutter has.
Taking Guest Posting to The Next Level
The Wirecutter doesn't just do regular guest posts, they write regular columns on huge news sites like The New York Times and Forbes.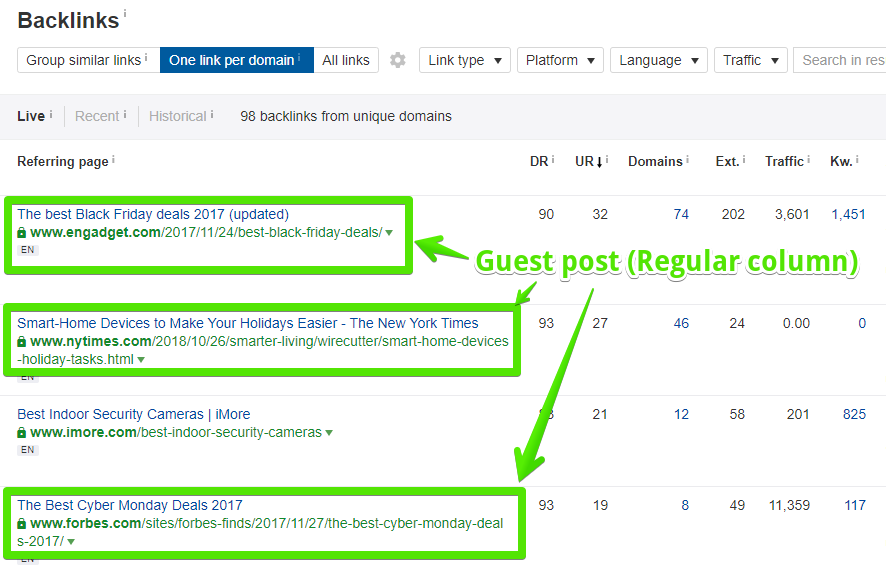 Guest posts are great by themselves, but having a column takes them to the next level.
Many one-off guest posts have limitations put on them by site owners. They often won't allow you to link to your content in your post, especially not review pages.
But when you regularly write for a site, you build up a lot of trust, and eventually they'll let you write your posts however you see fit.
Wirecutter regularly links to their highest value review pages from their column contributions.
The links are natural in the eyes of search engines, and quite powerful.
If you can't find regular places to write, either because of a lack of a portfolio or experience, start making a portfolio through regular guest posting. Those links will still help, and could lead to the regular contributions that are most effective.
Communities Are Where Reviews Are Cited
Products are often discussed on forums and social media groups, whether on Reddit or a niche-specific forum.
When someone wants to back up their point about a product being good or bad, they link to a review.
The article we're analyzing here had quite a few forum backlinks.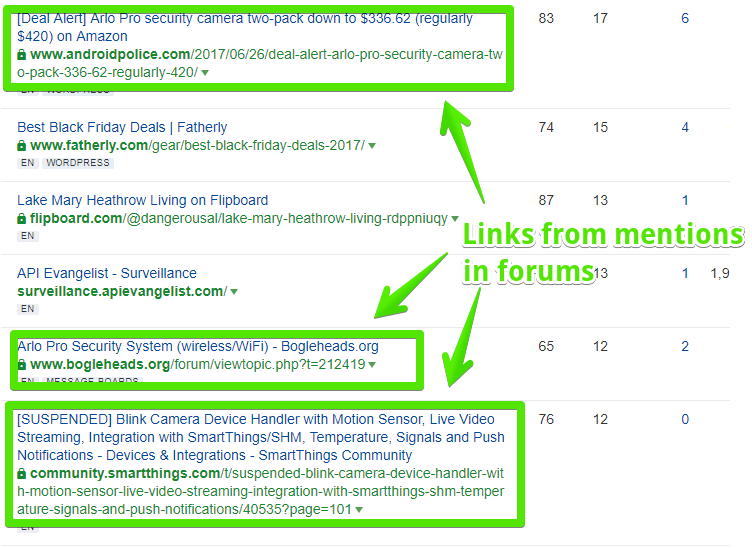 They aren't necessarily the strongest links, but they're highly relevant and completely natural. Furthermore, they likely drive some traffic as well.
Keep in mind your competition is also struggling for links, so these links are still fairly effective.
Now if you're not ranking highly already, people aren't going to cite your reviews, so you'll have to do it yourself.
Join the biggest forums in your niche and be an active member.When a thread comes up discussing products that you've reviewed, drop a link to your review. It takes a little more work on your part, but anyone can get these links.
Reviews Are Often Mentioned on Social Media
Social media links are typically similar to forum links. People link to reviews (and other content) during conversations.
Some people will even just share your reviews if you've gone above and beyond, which The Wirecutter often does.
In the link profile of the article we're looking at, there were links from social media sites like Flipboard.
The Wirecutter is also very active on Facebook, and has a good following on Twitter as well:

If you want your site to look like a real business and not just another low quality review site looking to make quick commissions, run your review site like a real business. Have a presence on social media, and engage with enthusiasts in your niche when they mention topics you've written about. Every once in a while, chime in with a link to your review pages.
When All Else Fails, Paid Links Are an Option
Big disclaimer here: While I suspect some links in this page's profile are paid links, I can't prove it for sure. Based on my experience, they just seem very unnatural.
For example, I don't see why this article would be linking to the Wirecutter's review page with this anchor text, in the context of this section in the post: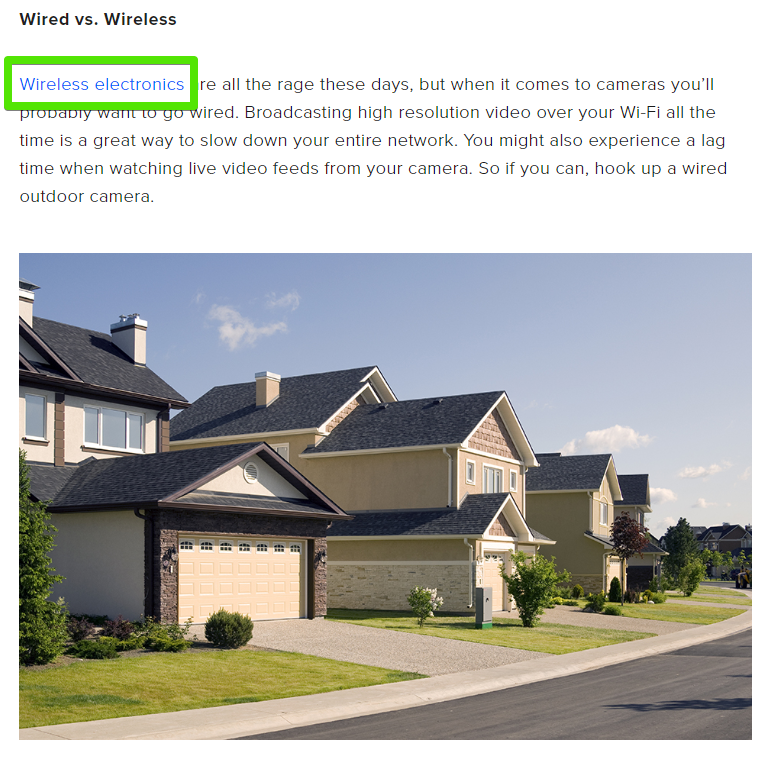 It looks like what I've seen when I've tested private blog network services.
Maybe The Wirecutter didn't pay for this link. That's very possible. But for the purposes of this article, it doesn't matter.
If you're really struggling to get links for your review site, paying bloggers for links is always an option. It's a blackhat one for sure, but it's also next to impossible to get caught.
If you want to do this, find small to medium sites in your niche and just contact them offering to pay for a link. Nothing fancy is required since you're offering value in the form of money. Many will say yes, and you'll just have to negotiate a price.
Alternatively, hire a guest posting service to obtain completely legitimate links back to your reviews. You're essentially still paying for links, but you're paying the middleman (and workers), rather than the site hosting the link itself.
Wrapping Up
Acquiring backlinks for review sites isn't easy, but it is possible.
By analysing a popular and successful review site, we've uncovered 4 viable ways of getting links for a review site:
Guest and column posts
Community links
Social media interactions
Paid links
These are time consuming or expensive tactics, but that's what it takes to rank pages with high commercial intent that people don't like linking to.
Finally, remember that since your competitors are also in the same situation, just a few good links can have a big impact on your rankings.
Posted Under: Blog
Tags: