Written by Dale Cudmore on 01.06.2020

How to Come Up With Customized Guest Posting Ideas That Always Get Accepted ?
There's one surefire way of getting most of your guest post pitches rejected:
Pitching an idea that isn't relevant for the target blog.
This usually happens when a marketer comes up with a list of ideal topics for whatever they're trying to promote, and pitches those to all their guest posting targets.
In short, if you're not coming up with custom guest post ideas for every pitch, you're going to:
Get a lower approval rate.
Limit your guest posting prospects.
Get less traction with readers if you do get a post accepted.
Your goal shouldn't be to just get a post accepted. You want it to be a hit with that blog's readership and attract tons of views and links, which your business will then benefit from.
And the only way to do that is by generating the right guest post ideas before you pitch.
I'm going to show you a short process to come up with these "winning" ideas, which doesn't take long once you're used to it.
Step #1: Find the Top Posts on the Site
If you want to write a popular post on a site, it follows that you need to understand what posts are already popular on that site.
It tells you what topics are most interesting for their readers, and what style or formatting to use.
There's a few ways to do this quickly, it doesn't really matter which one you choose.
First, see if the site has a list of "top posts," usually in the sidebar.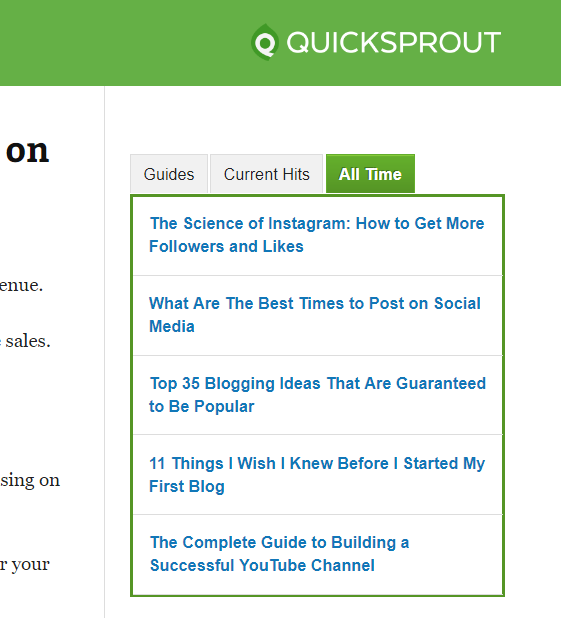 If your target site has no sidebar, or list of popular posts, head over to Buzzsumo.
Copy and paste the domain URL into Buzzsumo's search tool, and it will bring up the most popular content on social media.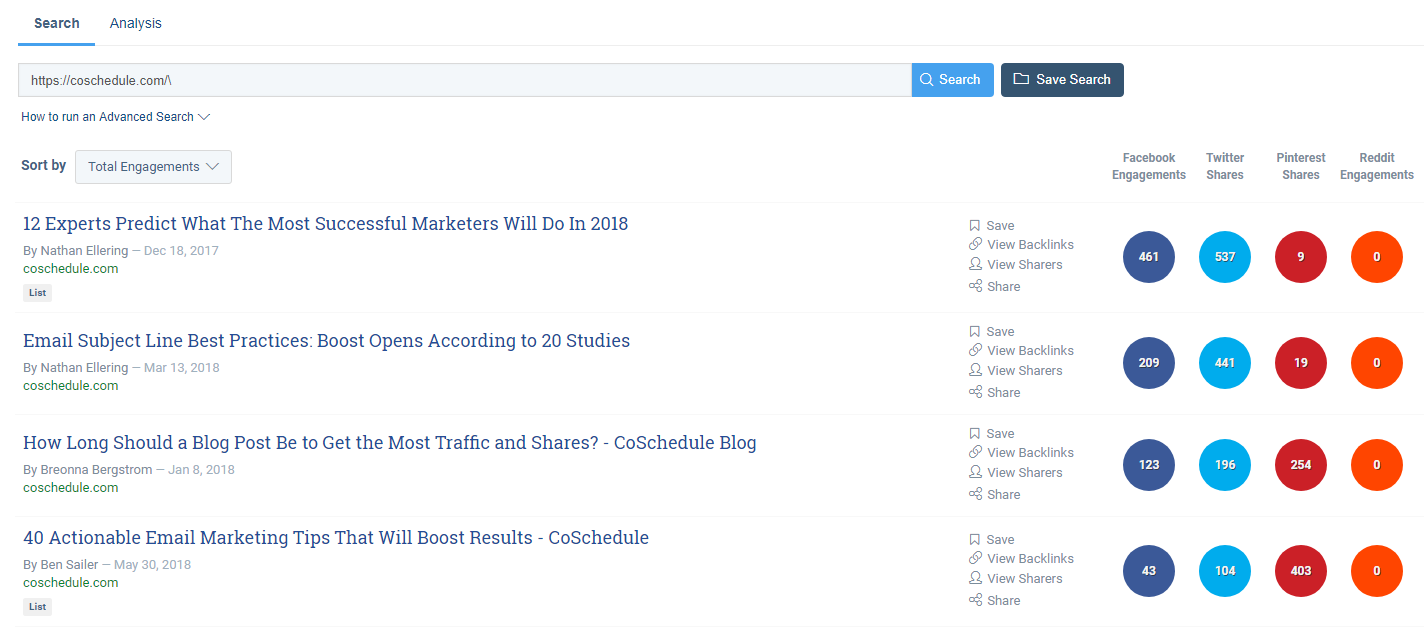 The free account only shows you 5 results, which is often enough.
If you regularly guest post, you may want to purchase a plan.
Finally, if that fails as well, you can use Screaming Frog to scrape a domain and extract how many comments each post has.

This has a bit of a learning curve, but will work in almost all situations.
If somehow all of those methods fail, which is rare, you can contact the blog manager and ask them which types of posts do best for their site. After all, it's in their best interest for your guest post to do well.
Step #2: Extract and Narrow Those Topics Down to "Related" Topics
Now you should have a list of 5-20 top performing blog posts on your target blog.
The goal here is to take out the main topic from each idea.
For an example, pretend we're trying to promote a new keyword research tool and want to guest post on CoSchedule (the Buzzsumo results from above).
The main topics for those top 5 articles are:
Marketing predictions
Email subject line best practices
Blog post length
Email marketing tips
Content marketing strategy
Imagine if you just wrote an obvious article about keyword research tools (like "The 5 Best Keyword Research Tools"). It wouldn't be popular, and wouldn't get traction on the site.
Instead, look at those main topics and find a way to write about them that will allow you to mention your tool in a relevant way (you don't want to have to cram it in there unnaturally).
Here's a few examples.
Topic: Marketing predictions
Idea #1: Will people still use keyword research tools in [next year]?
Idea #2: How will digital marketing research change next year?
Topic: Email subject line best practices
Idea #1: Should you include keywords in your subject line?
Idea #2: How to come up with better email marketing topics (using kw research)
Those have a much better chance of gaining traction on our target site.
They are also far from "easy" topics to relate to. In most cases it'll be much easier.
You may not be able to relate to some topics, and that's fine. You only need 3-5 ideas to pitch in most cases, or one really good one.
Where did I get those ideas above? I pulled them from the top of my head. In reality, you want a more methodical process, which is exactly what step #3 will cover.
Step #3: Content Ideas That Will Attract the Most Views and Links
If you're investing all this time and effort, you better be targeting high quality blogs.
These blogs will already have a solid readership, so you don't need to worry about SEO at all really when picking a topic.
Instead, we want to look at what ideas, related to those topics you found, are popular on social media. You want shareable topics that will attract tons of viewers to your guest posts.
There are 3 main ways to do this. I've listed them in order of preference.
Option #1: Find Related Questions in Their Comments Section
Seeing what ideas do well on social media is fine, but if you can get ideas from the readers of your target blog instead, that's even better.
This simple tactic is to look at comments of previously popular articles for ideas. Often, readers will ask questions related to the article itself that could be turned into their own posts.
So go back to those top posts you found in step #1 and look at the comments section if it's there. Some blogs don't have comments, including our example target (CoSchedule), so this method won't work.
Here's an example of a useful comment from a top article on QuickSprout.

It's a direct question to the author on a closely related topic. You could take that question as a headline and it would likely to well on the blog.
Option #2: Search for the Topic in Buzzsumo
You can search on Buzzsumo for a domain like we did before, or a topic.
Enter in the topics we extracted in the last step, one at a time.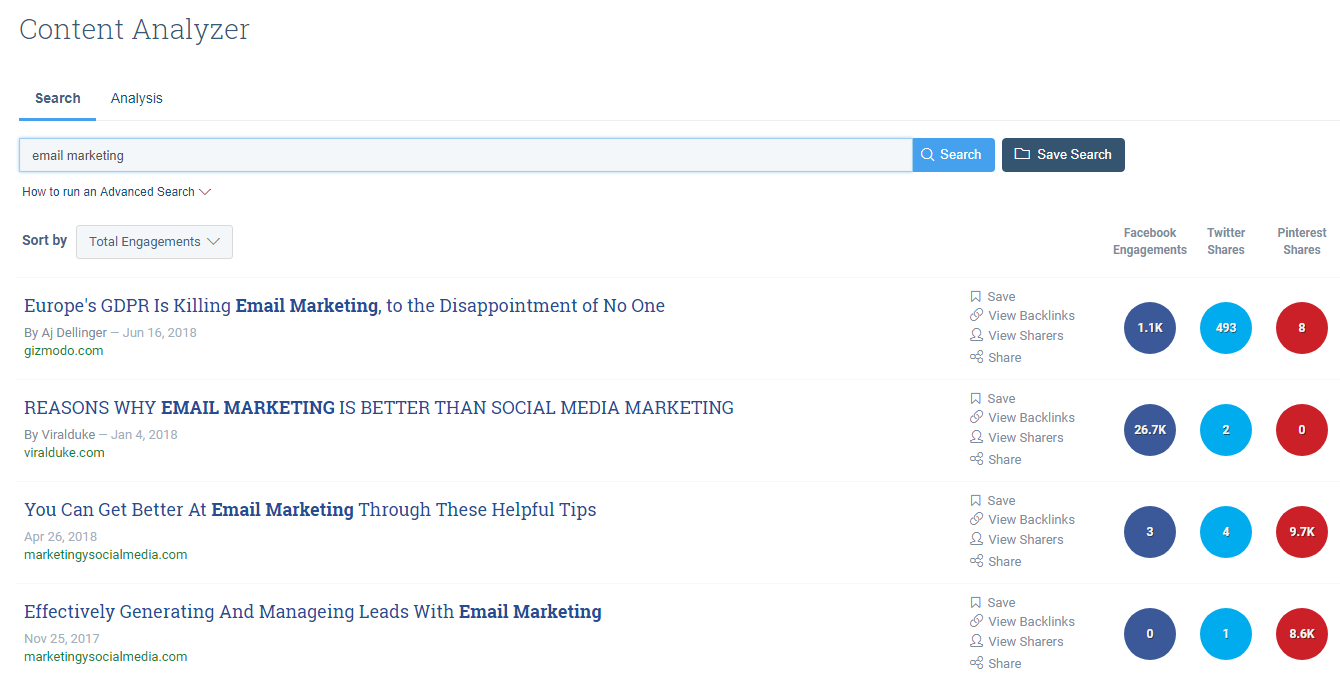 This will return the top 5 articles about that topic.
Again, you're limited to 5, and that may not be enough to give you good ideas.
If not, use option 3.
Option #3: Search on Social Media for the Topic
Reddit and Twitter are both great sources of content ideas.
Search for your keyword in the search bar of each site, and see which ideas get the most comments and engagement (upvotes, retweets, etc.).
If you need a lot of ideas, use a tool like QuestionDB to extract the most popular questions asked about that topic from Reddit.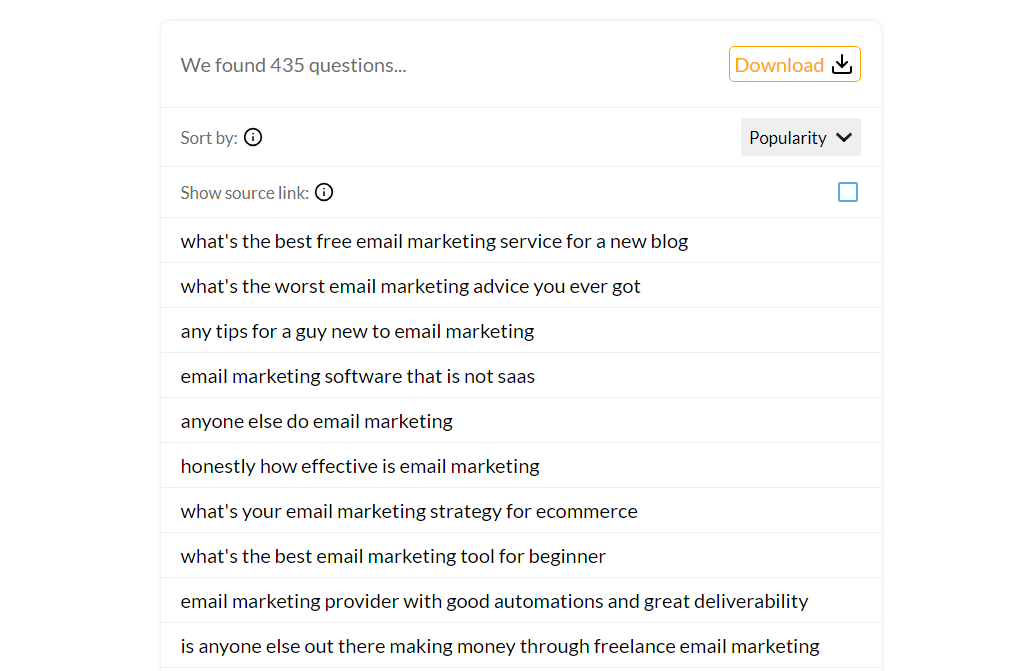 By now you should have a minimum of 3-5 ideas to pitch.
Step #4: Craft Potential Titles That Will Attract Extra Attention
This is where most people get lazy.
They'd rather not spend the time coming up with a good title if they may not even use it.
But a good title is crucial if you want to get guest posts accepted. The blog editor will instantly recognize if a title would be popular with their readers.
So spend as much time as you need to here to write great titles for all your idea pitches.
According to a Conductor study and HubSpot and Outbrain report that both looked at what made headlines most effective, you should try to make headlines:
With numbers in them.
With brackets.
That are short and clear.
What do I mean by brackets?
At the end of your title, add square or round brackets that have a word interesting to the reader. The most popular ones are:
Data
Photos
Proof
PDF
Template
Download
Video
For example, which headline would you rather click:
How to Come Up With Great Guest Posting Ideas
How to Come Up With Great Guest Posting Ideas [Step-by-Step]
Ideally, come up with 5-10 title ideas for each idea, then pick the best one.
This will take time, but it's worth it. You'll get more pitches accepted, and your posts will perform far better than you're used to.
Another benefit is that you'll often find that you can use these ideas later on, whether in future guest post pitches or for your own blog.
Conclusion
If you follow this process as I laid it out, your pitch acceptance rate will go through the roof, and your guest posts will get many more views and links.
This leads to better SEO benefits and direct traffic to your business.
After this, all that's left is to go above and beyond with your actual guest post, and you can be confident that it will produce the results that you are after.
Posted Under: Blog
Tags: