Written by Dale Cudmore on 01.22.2020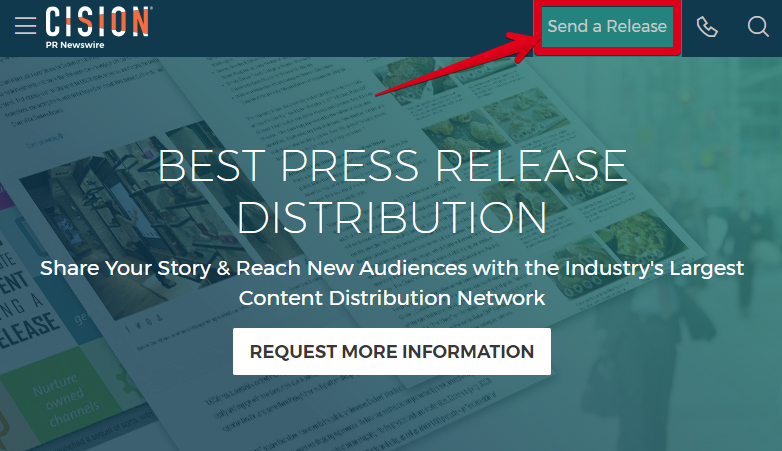 Are Press Releases Still Useful for SEO in 2020? ?
It's always nice to have more link building tactics in your arsenal.
Press releases are pretty simple to build, but the question is are they effective?
In 2020, the way that SEOs used to use press releases for link building is dead, I'm sure of that.
For one, all the links are no-follow, but more important, Google representatives themselves have said:
So we try to ignore links from things like press releases because we know in general companies put the press releases out themselves. So any links in there are essentially placed by themselves.
That quote comes straight from John Mueller in this video:
Google might still accidently count some, but the direct effect the links in those press releases have is very small.
However, press releases can still have great SEO impact if you do them right. This will likely involve a change in how you think about press releases.
Your new goal should not be to get direct links from the press releases, but instead to tell worthwhile news about your business that journalists will want to write about.
They will then cover the story and write about your business to their audience, and link to your site from their posts. These links are very good. They come from authoritative and relevant sites, and are in the content themselves.
You might be thinking, "why would a journalist want to write about my site?"
It doesn't matter if you're just a review site, as long as you're doing something innovative and truly useful.
Look at WireCutter for an example who gets tons of press mentions, and the only things they publish are product reviews.
If you're a local business, it's even easier. Offering a new service or upgrading to the latest technology (even being available on an app like Foodora for example) is often newsworthy.
Not all journalists only write about big national events. There are many that work for small publications that will cover fairly minor things.
So we need to shift your perspective from the direct links themselves, to writing press releases that journalists will see and write about.
I'll try to help you do that here.
The Basics: How Press Releases Work (From a Journalists Perspective)
Press releases used to exist before the Internet, but has shifted on their like most parts of the news cycles.
A press release is like the news for journalists.
It's a high level look at something that a business has recently accomplished (e.g. gone "green", or launched a new product, etc.) or discovered.
If a journalist thinks their audience will be interested in the topic, they'll write an article tailored for their readers.
Step 1: How Will Journalists Find Your Press Release
Your first step should be to visit a press release site.
PR Newswire is a big one.
Then start thinking about the main keywords a journalist that might write about your business would monitor.
If you're really not sure, type in your general niche or business type into their search bar, and see what comes up.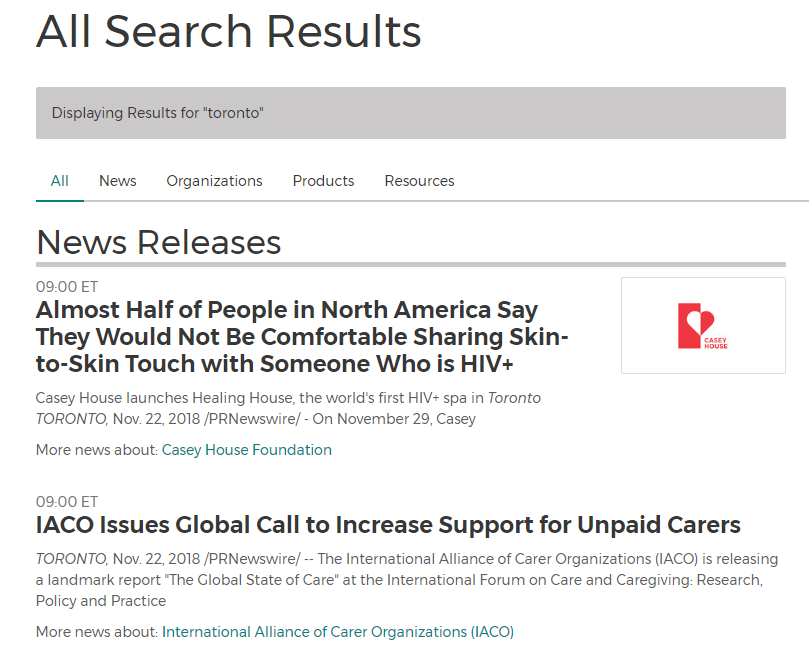 A general niche may be enough if it's popular enough to monitor. Journalists would monitor specific topics like "vegan" or "SaaS", but not broad topics like "technology".
If you run a local business, your city name or geographical area could also be great keywords.
You'll want to include these in your title or press release so that journalists who track these keywords will see your press release.
Step 2: What's Your Angle?
Headlines are huge here.
If you can't get a journalist's attention, they won't read your actual press release.
Here are some example headlines I pulled from the example search above:
Almost Half of People in North America Say They Would Not Be Comfortable Sharing Skin-to-Skin Touch with Someone Who is HIV+
IACO Issues Global Call to Increase Support for Unpaid Carers
Capstone Mining to Attend Upcoming Scotiabank Mining Conference
Maxar Technologies to Present at Upcoming Investor Conferences
You'll want to look at headlines and model yours after good ones.
You'll start to see some patterns:
Most include a business name
They are short and clear
They describe an action (attending a conference) or result (of research)
It doesn't need to be click-baity, it just needs to be clear and newsworthy itself.
What's considered newsworthy? Here are some examples:
A business being a vendor at an event (journalists will cover the event)
Results of research your business did (highlight the most interesting)
A new product being launched (especially if innovative)
Trending topics (becoming more environmentally friendly is trending now)
Raising money for good causes
This is where experience comes into play, as all businesses have different strengths to highlight.
Step 3: Write Your Press Release
There are 3 main parts of a press release.
Overall, your release should be short (400-500 words MAX).
Feel free to look at press releases that others have published to give you inspiration. If you hate writing, you can hire freelancers that specialize in press releases.
The Intro (Above the Fold)
I've broken down the 3 main elements of the intro in this picture: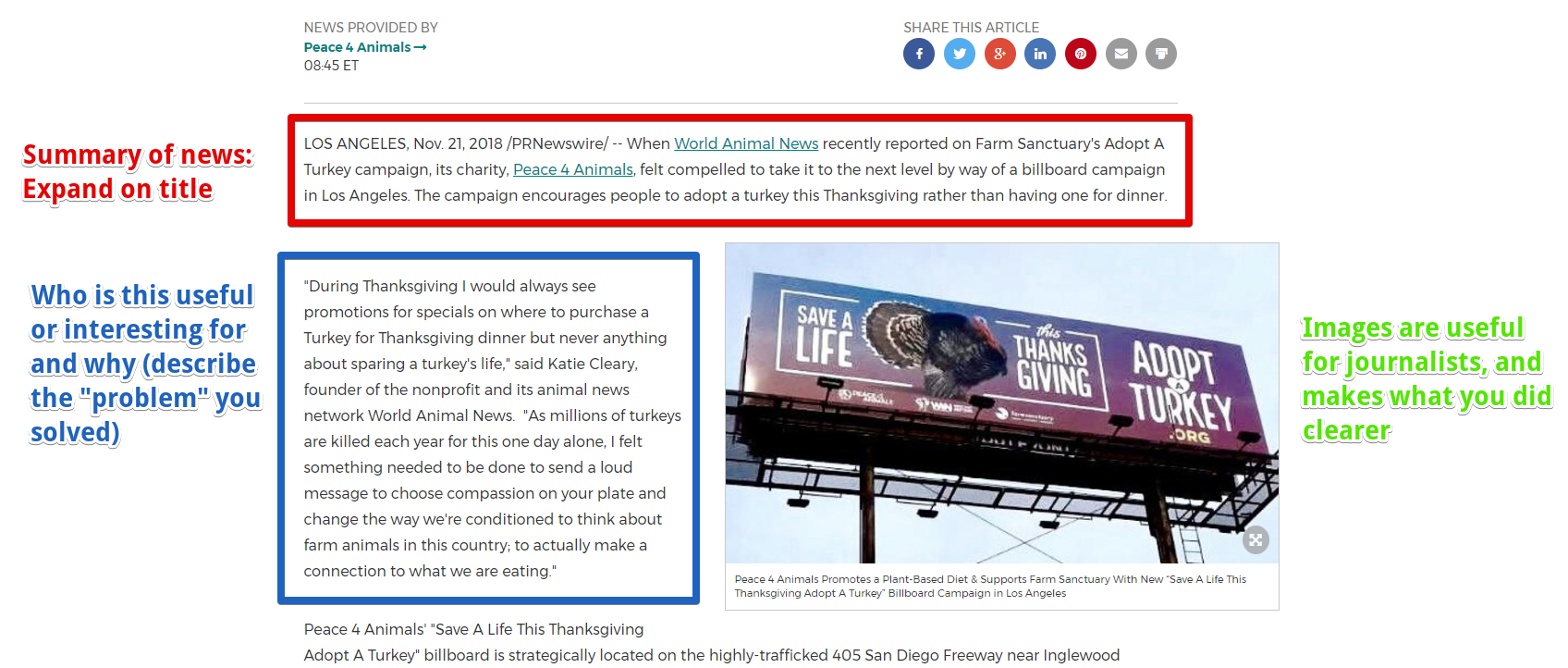 First, you'll have the main intro paragraph, which will be a lot like the headline, but a bit more detailed.
Next you'll want to expand on the problem. All newsworthy events solve a problem for someone. This could be a quote, or a good time to cite market statistics.
Third, it doesn't necessarily need to be right at the top, but pictures always help make it clear what your business has done or is doing. Journalists may use this picture directly, so make it high quality.
The "Meat"
Next, you need to give even more detail about your services or the thing your business accomplished.

For example, if you're attending a conference, you can expand on:
When you'll be there
The cost to attend or buy
Any products you'll be bringing
Who from your company will attend
If you're speaking or doing a presentation
Or, if you're offering a new product or service, you can give pricing and ordering information.
Feel free to link to specific, relevant pages on your website.
Close With a Call to Action (CTA) and Contact Details
Finally, you have to have a way for journalists to contact you.

Your press release may have enough detail for them to write about, but they'll often want unique quotes, pictures, or more information.
You want to encourage this contact, and reply quickly if anyone does reach out.
Step 4: Publish to a Press Release (Newswire) Service
You can publish your press release on any major newswire service.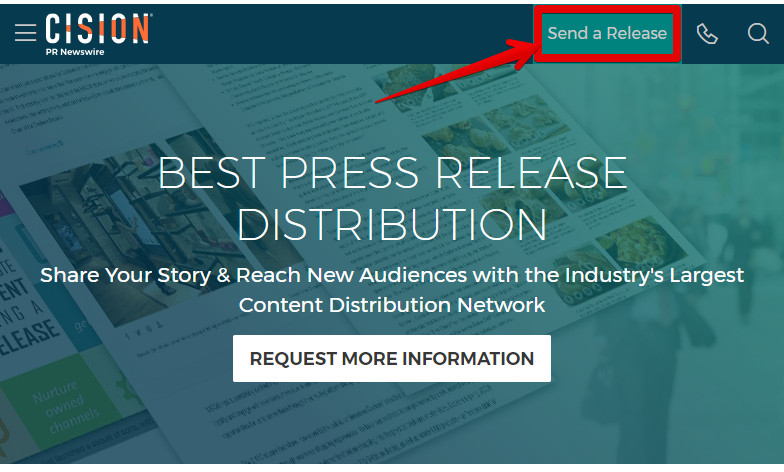 There are both free and paid ones. Obviously the free ones aren't as good, so if you have the budget, buy a paid publishing and distribution service.
Some of the most popular services you can publish to are:
Some are free to submit to, others have a fee.
Most also have a "distribution" service, where they'll push out your press release (syndicate it) on other newswire services as well for a fee.
If you don't distribute it, only the journalists who monitor that one specific press release site may see yours.
Step 5: Promote if You're Able To
You can and should go beyond the basic distribution services.
Contact journalists you think would be interested in writing about your story and point them towards the press release your just published.
The easiest way to find relevant journalists is to use a tool like Just Reach Out, which is a search engine for journalists and outreach tool.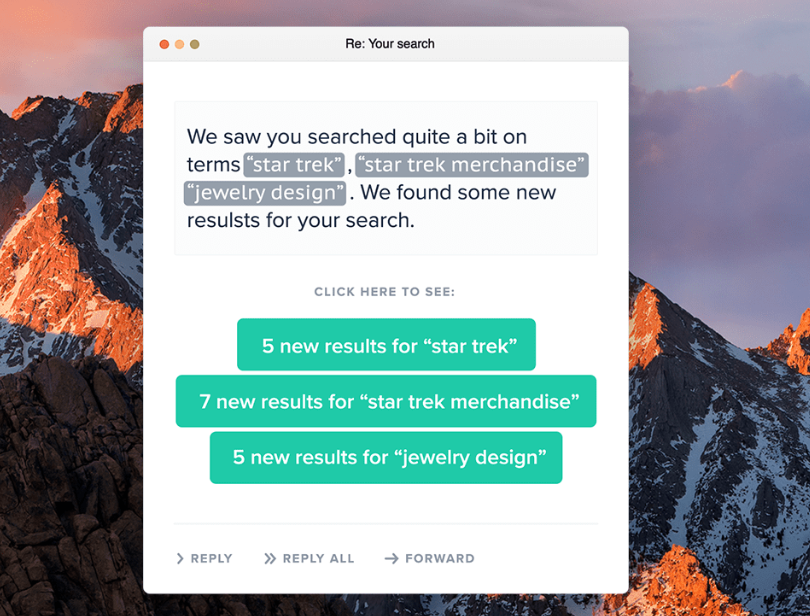 Alternatively, you can search for them on Twitter or LinkedIn. Most writers are very active on Twitter.
Use either one of the following search strings to find some journalists to contact:
[city] + [topic] + journalist
[topic] + journalist
Always read a few of their posts before contacting them to see if your press release fits their audience.
Most will be receptive to a short and sweet idea pitch, as long as it's relevant to what they usually write about.
Summary
This is not the old typical guide to press releases for link building.
In 2019, the links from press releases themselves don't do anything for your rankings.
However, press releases can help you get coverage on new sites, which will have strong links pointing back to your website. These links will have an impact.
This is a ton of work, and there's a good chance you won't get it quite right the first few times.
Make a decision on whether or not you want to invest the time and effort to do this properly.
If done right, there's still a lot of variability, which is why more consistent link building methods like guest posting are more popular.
Posted Under: Blog
Tags: