Written by Dale Cudmore on 01.21.2020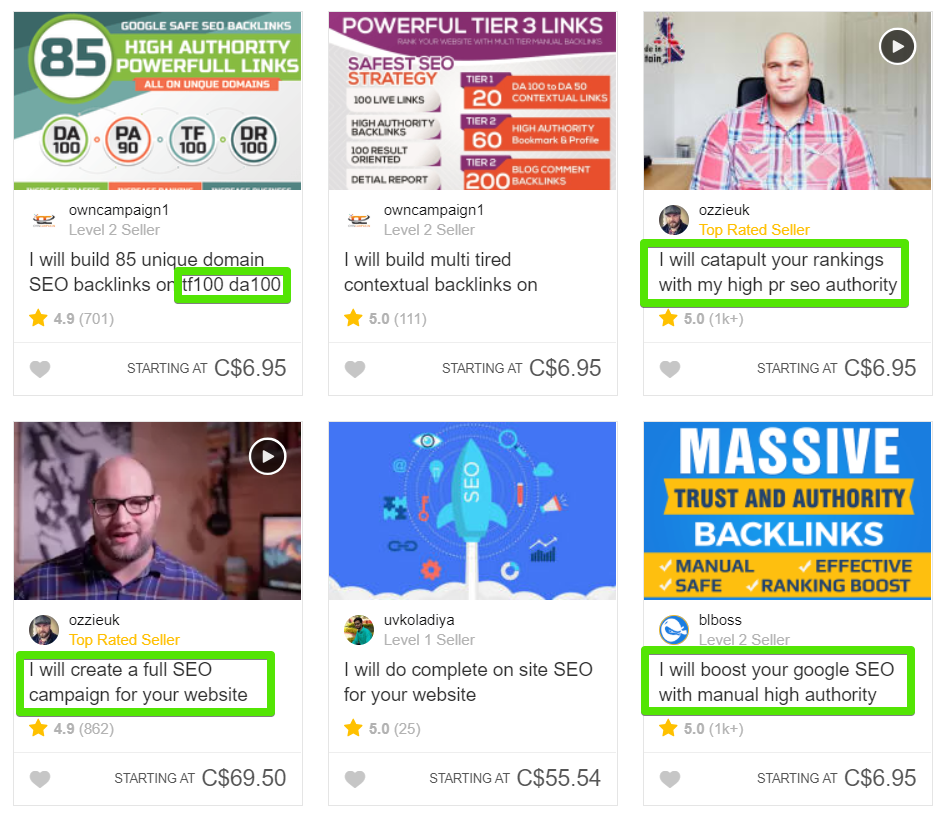 Are Fiverr Gigs Good to Use for SEO and Link Building? ?
Why is buying links so hard?
You want your site to rank better in Google, but every SEO agency wants thousands of dollars a month, and you've read that you just need links to rank better.
So you search for link building or SEO services, and end up on Fiverr.
At first, things look great, you see gigs like the ones below that promise links for $5-10 on "high domain authority (DA) sites".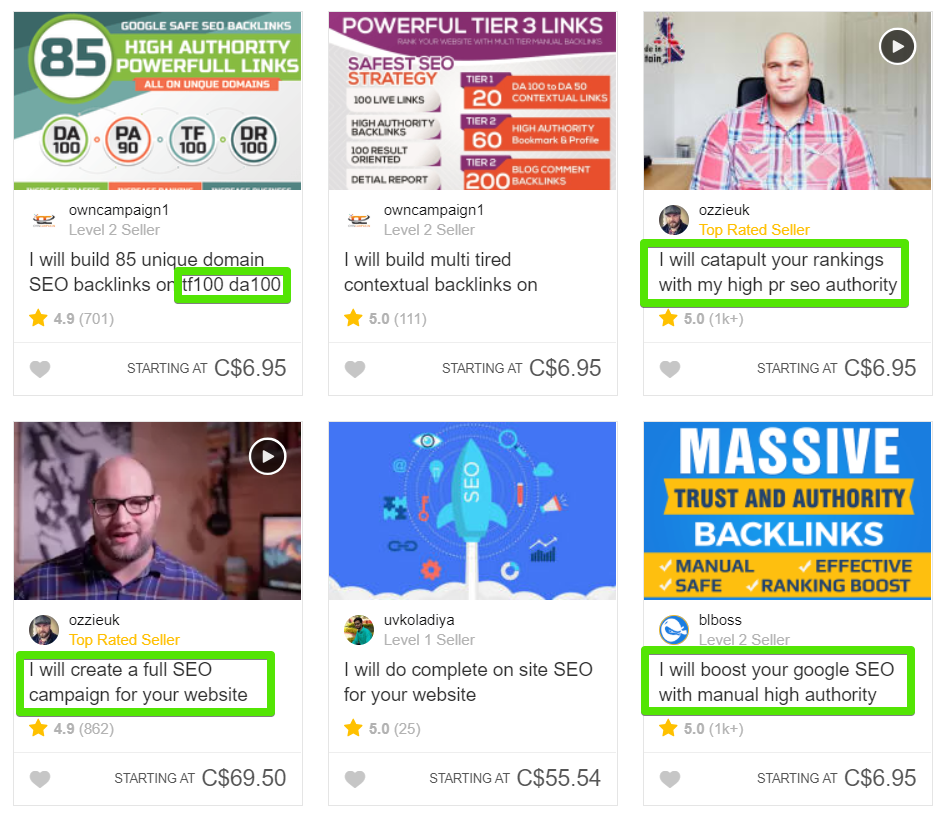 But that almost seems too good to be true.
Or maybe you've heard some sketchy things about Fiverr.
Which is how you ended up here.
Those instincts were right, and I'll be very clear here: there is not a single good, effective SEO gig on Fiverr.
Not even one, it's all garbage.
And I know that's disappointing, but it will save you time and money that you can spend on SEO services that actually do work.
Let me break down why those services are useless.
If a Link Builder is Good, Why Would They Be On Fiverr?
The average cost of buying a link through an agency is a minimum of $100.
Ahrefs found that buying links off blogs usually costs around $360.
That's going to be a basic link on a low to medium authority site.
Truly good and effective backlinks go for hundreds, even thousands of dollars.
Building these types of links take skill and experience. I've built them for years, and it's not easy. They take time, money, and relationships.
When I do link building for sites, I charge a minimum of $100 a link, and that's rare. It's usually much more.
So what type of link do you think you're getting for $5 off of Fiverr?
If you do buy those links, which I've done in the past just for curiosity, you usually end up with:
A spammy blog comment (no-follow link to boot).
A link on a content farm (think WordPress.com free blogs) in spun text (basically giberish).
Social media profile links.
Forum links.
These are all automated and provide approximately 0.00000001 in SEO value of any kind. They're worthless.
Google has been able to detect them for years and has completely devalue them. They won't drive traffic, and they won't help you rank better.
But some Fiverr services promise "manual high DA links," are they manually built?
It's possible that they're manually built, but your link will still be in gibberish content, either spun content or written by someone who barely speaks English.
And the "high DA" part. Well, sites like WordPress.com have very high domain authority, but a free blog on it has next to no authority, because it's not linked to from any important page on the site.
But the Fiverr Gigs Have Hundreds of 5 Star Reviews
It seems convincing at first, but upon a closer look, everything falls apart.
Here's a funny example that is at the top of the SEO category at the time of writing this post: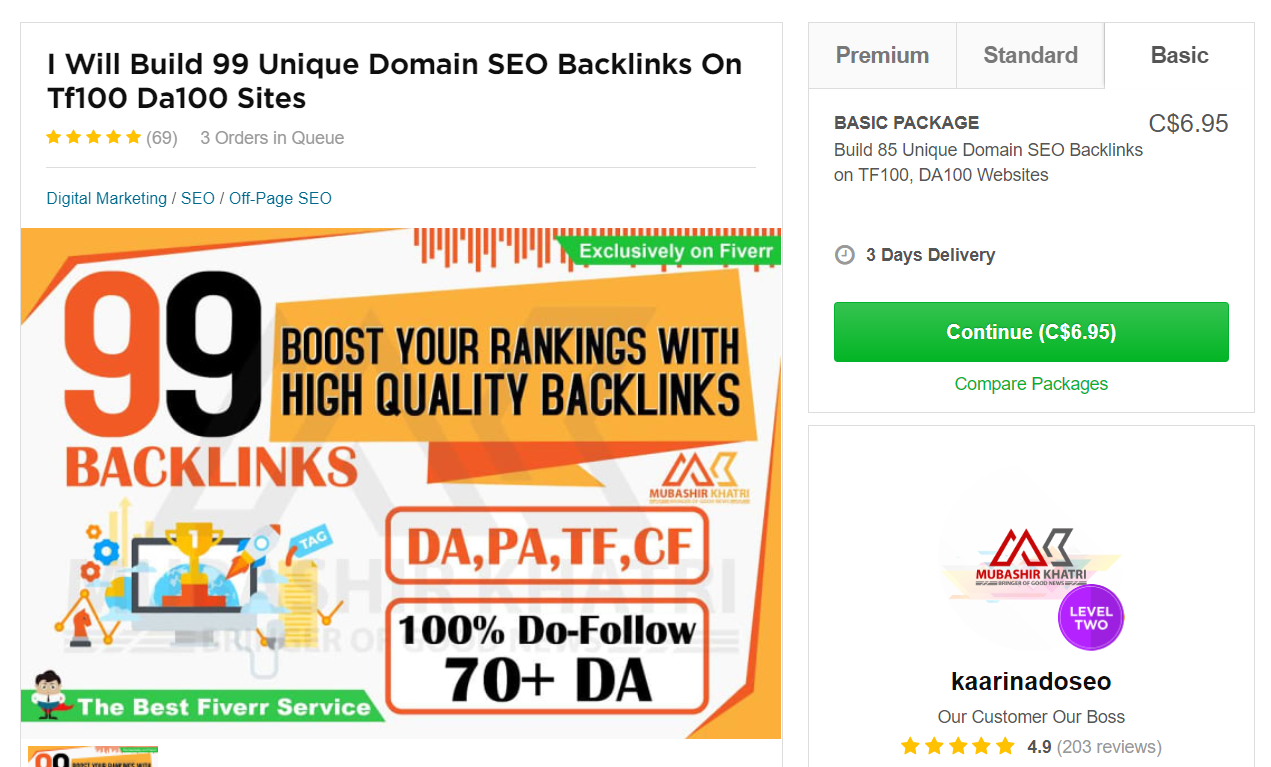 First of all, the title (which doesn't match the image) promises links on TF100 and DA100.
Even Google's homepage itself only has a DA of 98, so you wouldn't be crazy if you thought something was up at this point.
Then let's look at the description lower down on the page:

There's a mix of terrible grammar and some strange mixing of sentence and title case.
I understand the guy is trying his best, and I'm not making fun of his English, but there's almost no way he can build high quality backlinks himself.
He could never land a guest post on even a decent low authority site, and his outreach emails are likely written with similar grammar, which will be deleted instantly by every blogger and site owner.
Like we mentioned before, the backlinks he does build on sites with a DA of 70+ will be on free blogs on content farms that aren't worth anything (or extremely little).
Finally, let's look at the "5 star reviews." You'll notice that they're all only a few words: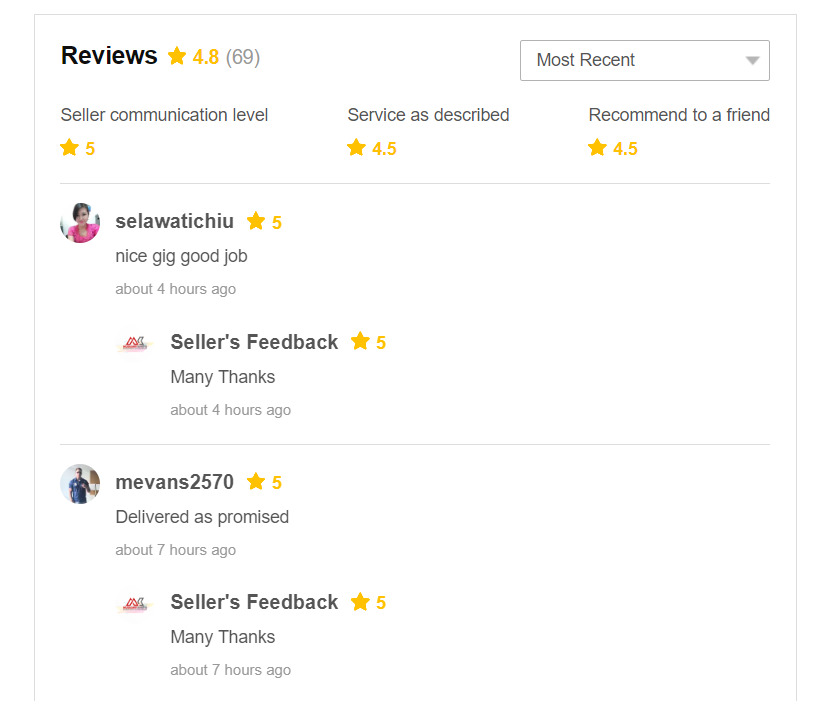 In some cases (I didn't even have to dig for it), the reviews are literal duplicates of each other.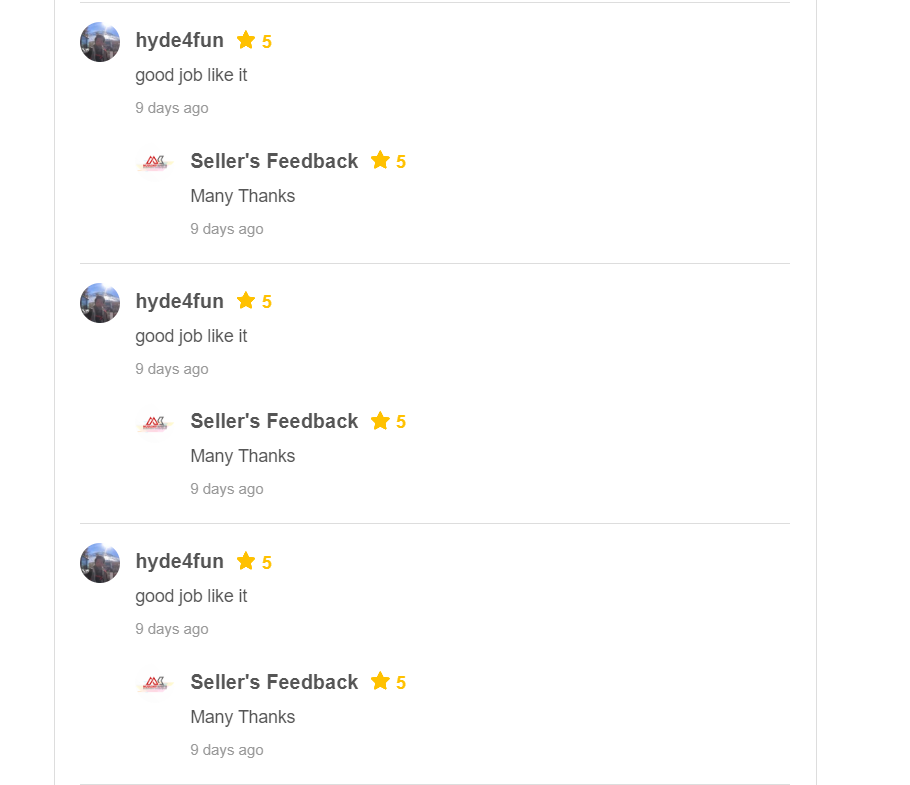 I did not edit that image, there were literally 3 of the exact same 5 star reviews and comments in a row.
That alone should raise some eyebrows, they don't look like real reviews.
There are 2 ways that service providers get all these 5 star reviews:
Customers don't know better –

 People who are brand new to SEO don't see all the red flags I've gone over. They think they got a backlink and are well on their way to ranking #1, so they leave a good review. They were 

taken advantage of

.

Paid reviews – 

It's really hard for Fiverr service providers to get orders unless they're on the front page of a high traffic Fiverr category page. So any new service provider is forced to 

buy reviews, 

or 

trade reviews

 with other service owners.

They refund customers when caught –

 You can test this for yourself if I still haven't convinced you. Buy services from multiple service providers on Fiverr and call them out after they deliver their junk links. All (or most) will offer to refund you your money, especially if you leave a bad review. Most people delete their reviews after this happens.
Where Can You Buy Good Backlinks?
The simple answer I gave you at the start of this post was that, no, Fiverr gigs are not good for SEO.
In fact, they're all next to useless.
If SEO was as easy as buying a few $5 link building packages, we'd all be ranking #1 for everything and making hundreds of thousands per month.
Fiverr service providers prey on people new to SEO, and it really bugs me, which you may have noticed throughout this article.
The SEO industry already has a shady reputation as it is, and people like these just make it worse.
Have I convinced you? I really do hope so.
But what do you do next, where can you buy links?
First, I really recommend trying to build backlinks yourself so you can understand the time and effort needed to build links properly. You'll also see which types of links actually help you rank better.
Otherwise, look for legitimate SEO services if you can't afford to hire an SEO agency (which is understandable).
The most popular link building services build guest posts for you. There are still some traps to avoid, but you're much more likely to see good results than on Fiverr.
Posted Under: Blog
Tags: