Written by Dale Cudmore on 05.27.2019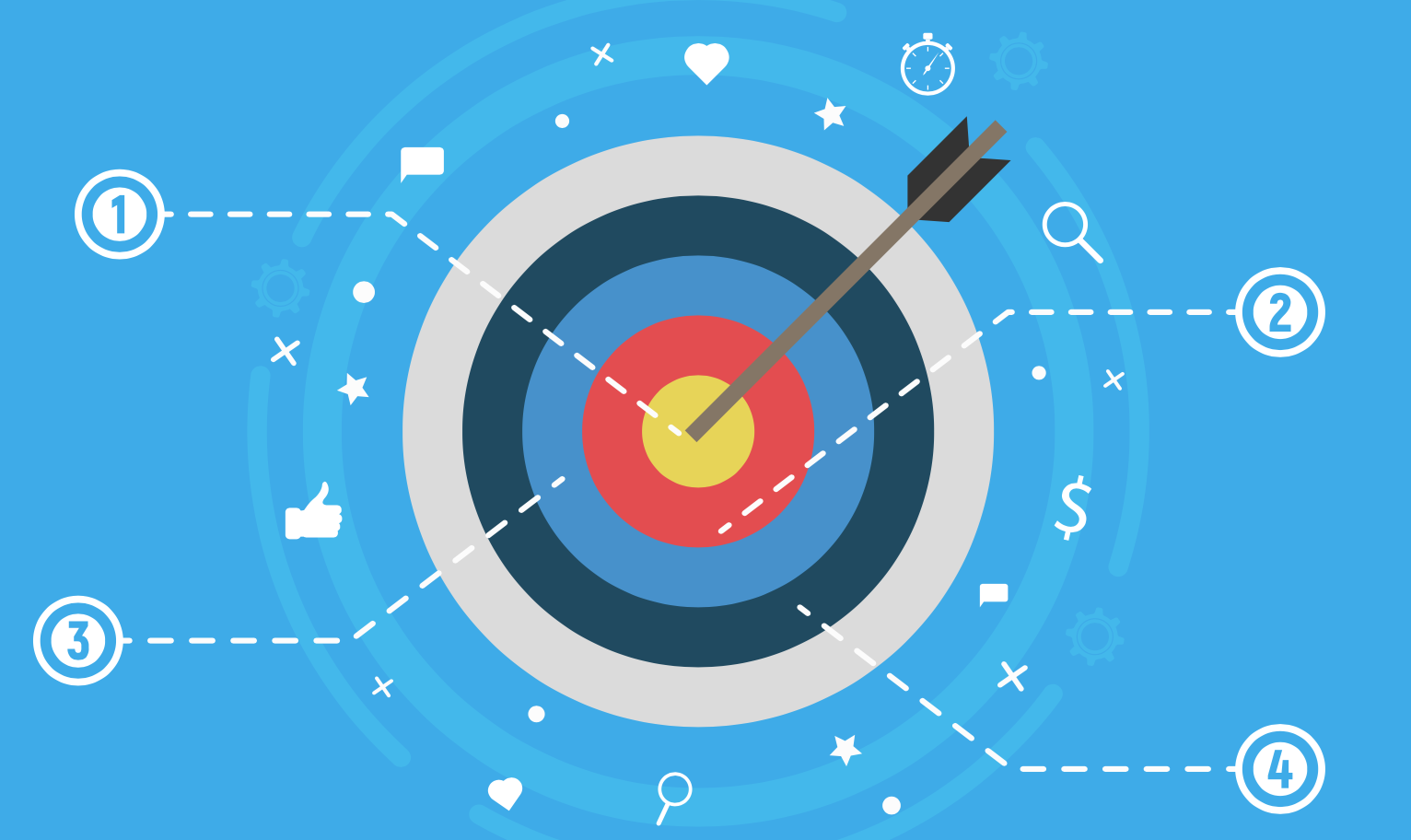 A Guide to Creating a HUGE List of Outreach Targets ?
If you want to build links, outreach is almost a necessity.
But it can be tough and overwhelming if you're new to it.
And if you're not quite getting the results that others seem to be getting, you're likely doing one or two small things wrong.
Basically what I've done here, is outline the process that I've used and refined over the years to build hundreds of high quality backlinks.
Maybe some of this will be old news to you, but there are likely at least a few small parts that will be useful.
This process does require that you have a good piece of content (or a tool) to promote. It's so difficult to build links through outreach otherwise without paying for links.
Let's start!
Step 1: Find a List of URLs You Want Links From Using Google
Google is the most obvious place to start looking for outreach prospects.
Let's say that you just wrote an awesome guide to "training your dog."
The first mistake that link builders often make is searching Google for this phrase, and then sending outreach emails to the top results asking for a link.
This makes no sense…why would a page that's ranking well in Google for that phrase link to a competitor (you!)?
It doesn't work.
What you need to do is target related search phrases where it makes sense to link to your content.
In this case, it would make sense for a guide to dealing with an aggressive dog to link to a full dog training guide.
You need to spend some time on this and be creative.
Here's a list of related search phrases that I would use to find outreach targets in this example situation:
Best training treats for your dog
Coolest tricks that dogs can do
Can you train your dog to do [X]
How not to train your dog
How to deal with an aggressive dog
More is better. Typically I keep going until I have a list of 20 or more.
Some of the sites that have pages ranking for those terms will have their own dog training guide, but most won't.
Then, come up with related variations of each of those. The easiest way to do this is to plug them into Google, and look at the "related searched" at the bottom:

Copy down any related searches that make sense for you (most should).
At this point you have a list of 50-100 related search phrases. Awesome!
Now's the fun part: create a spreadsheet and fill it up with the URLs of the top 50-100 ranking pages for each of those terms.
You'll have a list of at least 2,500 URLs to potentially reach out to. That'll keep you busy for a while.
Tools to Speed Up This Step
I don't recommend manually copy and pasting each of those search results into your spreadsheet. That will take forever.
If you have a programming background or developer friend, they can make you a simple script to do this in a few hours.
Otherwise, Scrapebox is your best friend.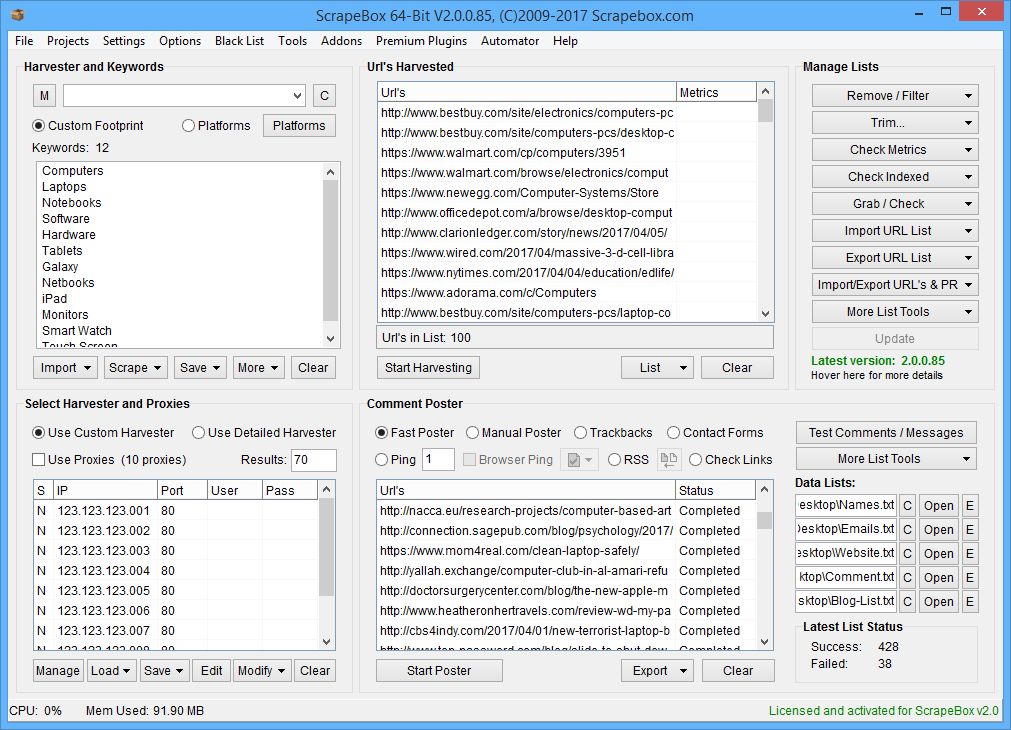 You input your search phrases, and the tool will scrape Google results for those phrases and let you export the results into a nice spreadsheet.
Here's a good Scrapebox tutorial if you're new to it.
Alternatively, if you prefer a free in-browser option, you can use the Data Scraper Chrome extension. It'll be a bit more time consuming and tedious, but doable.
Step 2: Find More URLs Through Competitor Backlink Analysis
This is basically borrowing from the Skyscraper technique.
If your content is better than what already exists, it's possible to convince people linking to those existing competitors to link to yours as well, or instead of the original.
So the approach here is to:
Get a list of your competitors
Look up who links to them
Do outreach to those linkers
To find your competitors, just Google your primary phrases that you want to rank for.
In our example case, it's probably "how to train your dog."
Then copy (or scrape) the top 50-100 results. They usually get less relevant after that point.
Next, you'll have to manually input them into Ahrefs or Majestic, the 2 biggest link database tools. A paid account is necessary if you want to get serious, but if you're brand new to outreach you can get by for now with a free account.
So for each, plug them in and go to the backlinks tab: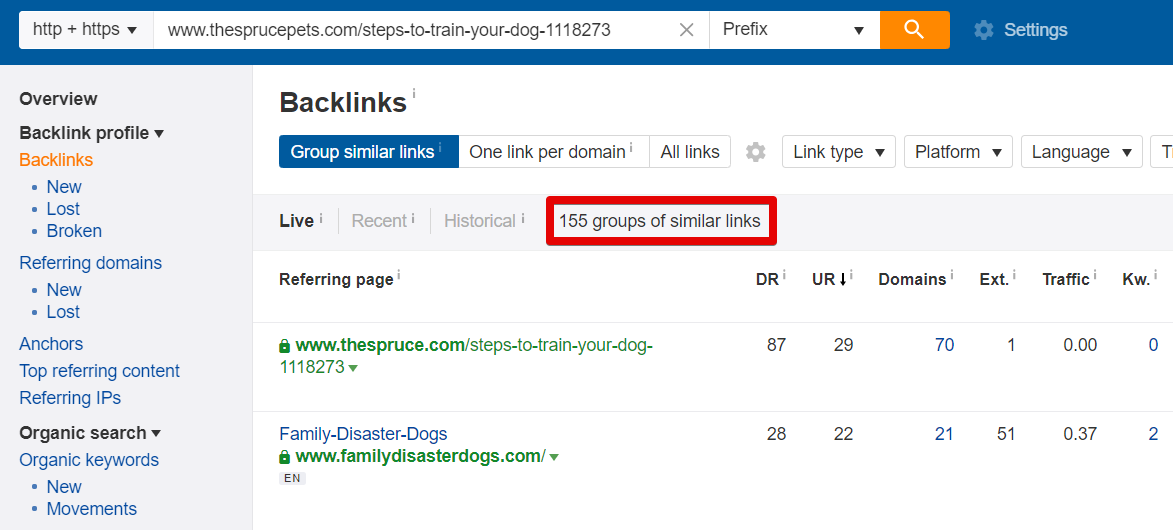 You'll want to export the results into a CSV: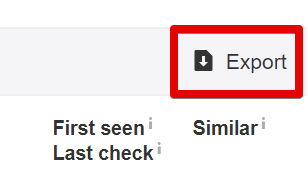 You can filter out any spam or junk links (usually obvious with a DA rating of less than 10 or 20, depending on how strict you want to be.
Add these to your list, and you should have a list of at least 5,000 or so for most topics.
At this point, remove duplicates, there will a decent chunk of them.
Step 3: Link Prospecting – Filter Out "Bad" URLs
Of all these URLs, many will turn out to be "junk".
You'll visit the site and it's clearly a spammy site that you don't want links from, or abandoned.
It's pretty simple, but incredibly time consuming because you actually have to see it with your own eyes to judge it.
You can train virtual assistants to do this if you need to scale up.
Tools to Make Link Prospecting Faster
I recently found out about this free Link Prospector tool, and it's a big time-saver here.
You paste in a list of URLs (only 25 for now for speed purposes), and then it will load them all in that browser window: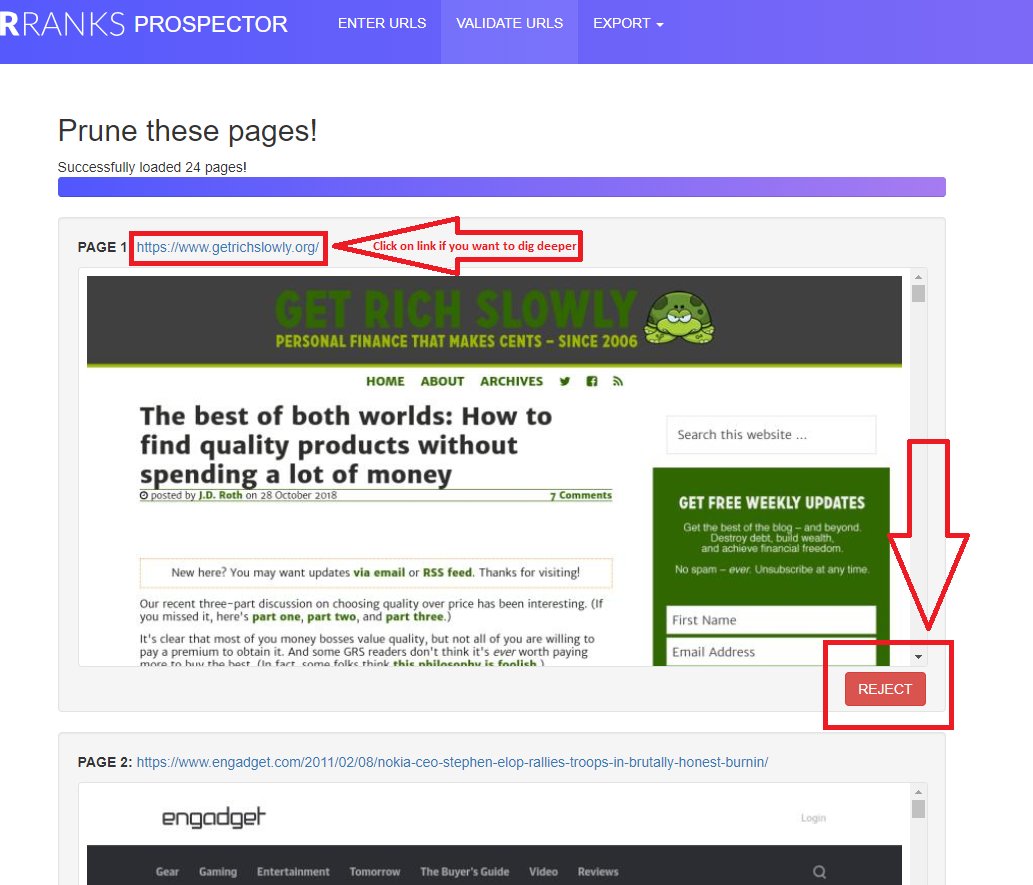 You can quickly see any obvious bad outreach targets and "reject" them, and then get a cleaned list of URLs at the end.
It's still going to take time, but it'll be much faster than doing it all manually.
Step 4: Find the "Right" Contact Information for Each Target
Finally, for your outreach to be successful, you need to contact whoever is able to change the links.
The way some link builders do this drives me nuts!
I get emails every week asking me to link to someone's content or tool in a post I wrote for someone else's site. I'm a freelance writer, it's what I do.
But once a writer submits their content, they no longer own it, and don't have access to change it.
So why would you email a guest poster or freelance author and ask them to change the link in their post? It makes no sense and many link builders do this (even agencies).
Can you still contact writers if you have relevant content? Yes, just not for a direct link. Maybe they'll be interested in taking a look at it, and may link to it in the future.
So when you see an author on one of your outreach targets, see if they actually own the site, or is an official staff of it: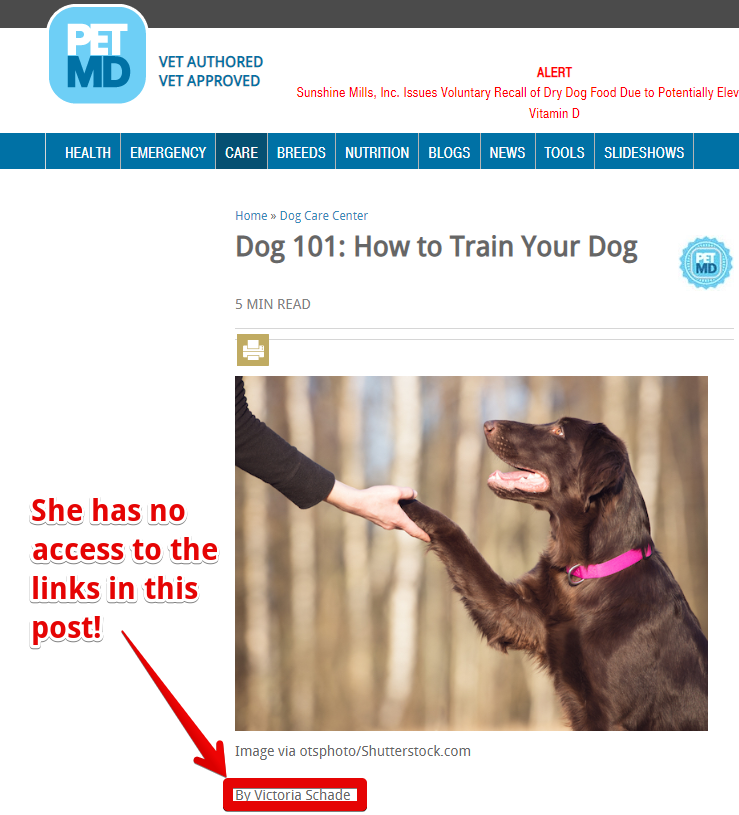 Even then, you may need to contact the blog manager instead the writer.
You'll need to snoop around usually on the "about" page of each site. This takes time, but will increase your success rate tremendously.
Then, you need to find the contact information of the right person to contact. It might be on the site, or you may have to dig deeper by Googling the author: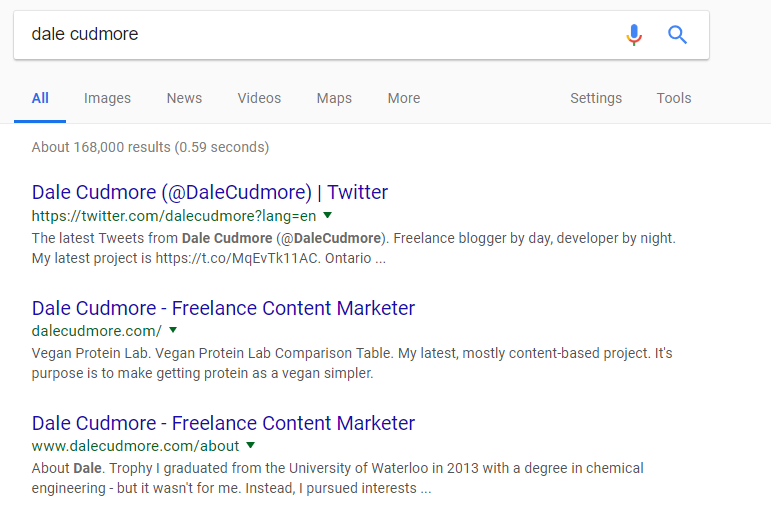 You can typically find their personal website or at least a social media profile where you can get in touch with them.
If you really can't find any contact information, try Hunter.io.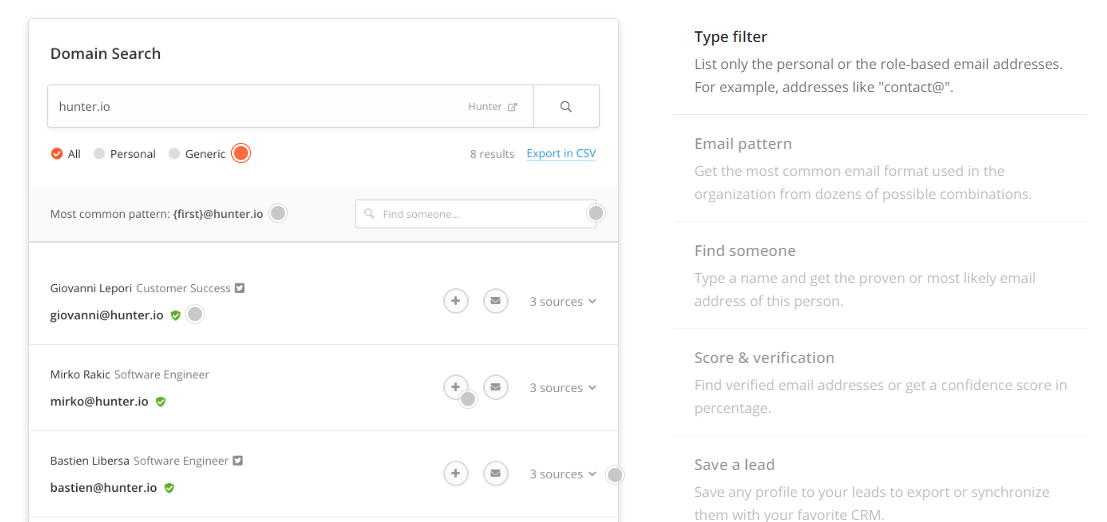 It lets you put in a domain name, then pulls up any emails for that specific domain.
Summary
Creating a huge list of outreach targets takes a huge amount of effort.
But if you do outreach well, each campaign can result in anywhere from several to hundreds of links.
Most good SEOs agree that you should spend much more time promoting content than actually creating it. So don't be afraid to spend a few days or weeks on this for each piece of content you make. Quality over quantity.
Posted Under: Blog
Tags: